Our highly-specialized team of Craftsmen are able to recreate specific pieces of furniture based off of the specifications provided to us by our clients. Below is our Lookbook of previous pieces we've built out in the past. Please feel free to browse through our Lookbook, and contact us with any questions!
---
Armchairs
Whether it's used to complete your living room or act as the centerpiece of your reading nook, custom chairs from Umana Designs are the perfect choice for your space. With our custom armchairs, you can create a lasting impression in any room inside of your home. Our armchairs look great in living rooms, foyers, dens, bedrooms, home offices, and more.
Any custom armchair can easily define one room from another or complement the mix of modern and contemporary furniture pieces you own. Our skilled and experienced craftsmen work tirelessly to perfect every detail to your exact specifications. We craft our armchairs by hand to replicate the intricate details seen in similar styles.
---
Armless Chairs
If you are looking for mid-back furniture to add to your residential or commercial space, our custom armless chairs may be just what you need. Custom armless chairs look great in just about any room in your home, such as the living room or home office. Additionally, these chairs are useful in many commercial applications, such as being used to support guests in waiting rooms and employees as they work at their desks
Our high-quality armless chairs are available in a wide selection of different styles and colors and can be crafted to exact specifications to meet size requirements or to replicate an existing furniture set.
---
Loveseats
Your living room is both a place for relaxation and a place for entertaining and hosting guests. A well-designed living room or family room incorporates flexible seating options, and a custom loveseat is a piece of furniture that can really elevate your space. Loveseats are slightly shorter than couches, offering enough space for two people to closely sit side-by-side comfortably.
At Umana Designs, our custom loveseats range in a variety of styles from classic to modern and contemporary. We give you the ability to completely customize every detail of your loveseat, including the style, material, and color so it will fit perfectly into your home.
---
Sectionals
While many homeowners furnish their living rooms with a combination or a sofa and loveseat, custom sectional sofas come with their own unique advantages. They can be placed in multiple positions and areas that other couches may not be able to fit. Sectional custom sofas are very versatile in that they can be adapted to your space rather than requiring you to create space around your sofa.
Our selection of custom sectionals gives you the chance to find the perfect furnishings for you and your space. You get to choose the size of your custom sectional sofa down to the inch, plus you get to make other selections to make sure it exactly fits your style and space.
---
Sofas
When it comes to personal comfort, your bed is the most important piece of furniture inside of your home. However, your living room sofas aren't too far behind. After all, we spend a good deal of time on our sofas; whether it is watching television, reading the newspaper, or chatting with visiting guests. Having the perfect sofa for your space is essential, which is why a custom-made sofa may be the ideal solution.
Our skilled furniture designers and craftsmen will work with you to create the perfect sofa for your space, customizing everything, including the size, material, and color. We offer custom sofas in both traditional to contemporary designs, using hundreds of fabrics in a seemingly endless combination of patterns and colors.
---
Styles
Finding the perfect couch or sofa for your space can be difficult. But luckily, Umana Designs makes it easy with our selection of custom sofa styles. We have a variety of sofa styles to choose from to perfectly fit your style and space, from those with a more traditional look to those that have a more contemporary feel.
We have over 20 different styles of sofas, sectionals, chaises, and other furnishings. If you have a different style in mind, our skilled craftsmen can customly build you a couch that reflects your needs and specifications. Contact our team to start building your custom furniture.
Corona Sofa
Daniel Loveseat
Delta Loveseat
---
Dylan Sectional
Elsa Sofa
Emilyy Sofa
---
Erica Sectional
Frankfurt Sofa
Ginger Chaise
---
Jason Sectional
Jenny Sofa
Julia Loveseat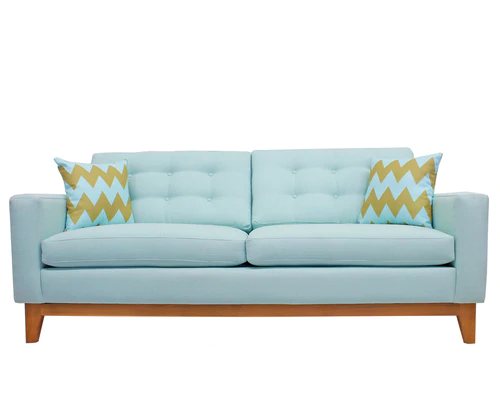 ---
Julie Sofa
London Chaise
Luna Loveseat
---
Madison Loveseat
Madrid Sofa
Milano Loveseat
---
Nancy Slip
Nancy Loveseat
Olivia Sectional
Roma Loveseat